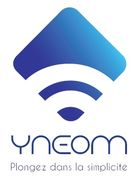 Type of startup :

Science of engineering

Date of entry :

18/12/2019

Associated laboratory(ies) :

LETI - CEA Tech
Yneom développe des équipements domotiques pour gérer la piscine à distance. Ce système s'appelle Ynblue, il s'agit du dispositif le plus complet, le plus simple à monter et conçu pour être adaptable aux demandes des clients. L'application est intuitive et visuelle. Elle permet le contrôle de la piscine depuis un smartphone, une tablette ou un ordinateur.